Good afternoon. Unfortunately, since last Wednesday the district has reported 21 covid cases (4 employees, 10 high school students, and 7 elementary students). Many of the cases were reported over the break, with 10 of them due to a positive household member. Contact tracing is ongoing for many of the cases and once we have identified the close school contacts, we will be reaching out to those families. This is a staggering number and we will be keeping a close eye on our cases coming off a holiday break. Your in service, Tom
Good afternoon. Here is this week's covid update: we have reported 9 cases to the county (4 HS students, 3 elementary students and 2 HS faculty members). Through our contact tracing, we identified 4 individuals for close contact that would be required to quarantine. All eligible student contacts have chosen the "test-to-stay" option. Out of the 9 cases, 6 were in contact with a positive household member. As you can see, our case numbers have started to climb but our quarantine numbers remain low due to our mitigation strategies (masking, distancing, and vaccinations). Yours in service, Tom
Just a reminder -Thursday, November 18th is early dismissal day for parent/teacher conferences. Elementary students will start dismissal at 11am followed by the High School at 11:30am. Bus student will leave at 11:35am. Thank you!
Good afternoon. As families are signing up for Operoo, one of our first uses of the program is sending out our "Digital Equity Survey". This is a requirement of the NYS Department of Education for all districts in the state. The information gathered will assist in decisions regarding access to the internet in areas such as ours in rural areas. The more information that we can provide, the better chances we have of receiving funding to provide quality internet access to areas that may not have it. Please take a few minutes to answer the short survey. We thank you in advance for your participation. Yours in service, Tom
COVID Update: This week we have had 8 positive covid cases. The 8 cases yielded 7 close contacts with most participating in the new "Test-to-Stay" option. Of the 8 cases, 7 of them were a result of a positive household member and 6 were already in quarantine when they tested positive. This seems to be the trend for our most recent cases. We are very excited about the Test-to-Stay option that is keeping many of our students in school. We know that the best place for our students to be is here for their first instruction. Thank you for your continued support. Yours in service, Tom
Good afternoon, since our last report on October 22, the district has reported 1 positive HS teacher and 5 students (3 Elem and 2 HS). The 6 positives have yielded 7 quarantines. We wish all a speedy and healthy recovery. Due to the new "Test to Stay" protocol, the quarantined individuals can now choose to be tested daily to attend school.
This morning, the Steuben County Department of Health announced that schools can now choose the "Test to Stay" protocol for its quarantined students and staff. This options allows school-identified close contacts to test daily in a 7-day window to attend school if they are asymptomatic and receive a negative test result daily. This option will be available to any non-vaccinated student or staff member that, through our contact investigation, we deem a close contact. Historically, we have seen that individuals that have been placed on the list from the school have not tested positive while in quarantine. We feel this is due to the covid mitigation strategies that schools are asked to abide by. Here are some details: - The district will still conduct our contact tracing and identify close contacts. (as normal) - The county will receive our list and quarantine those individuals for the required 10 days. (as normal) - The close contact can then choose the "Test to Stay" option to attend school. The individual will test every school day during a 7-day window. If the individual is asymptomatic and tests negative, he/she can stay in school for that day. (new) - On the 8th day, testing will no longer be required and the individual can attend school if they remain asymptomatic. (new) - The "Test to Stay" option is for ACADEMICS ONLY. It does not apply to any after-school activities, including sports. (new) - The individual is still considered in quarantine after leaving school and is required to quarantine in the evenings and weekends for the 10-day quarantine period. (as per normal quarantine dates except now can attend school only). - The "Test to Stay" option will not apply to any student or staff member that has a positive household member. Data has shown that the transmission of covid is much higher in the home than at school. When we complete our contact tracing, the principal or staff member will reach out to the student's family to discuss the "Test to Stay" option with the parent or guardian. This is great news for our students who will no longer have to miss in-person instruction after being deemed a close contact to a school case! If you have any questions, please feel free to contact me. Yours in service, Tom
Today's recording of the Halloween parade is posted on the district's Facebook page. We will be placing it on our website Monday. Have a great weekend.
Today the district put the final touches on its parents drop-off and pick-up loop. The permanent parking barriers will provide a safe environment for our families without the worry of crossing across traffic because a car is parked on the inside. Please be careful as you navigate in the loop and we have left plenty of space for a parked vehicle on the right and flowing traffic on the left. If there is a rock or a pole, please do not park in those areas.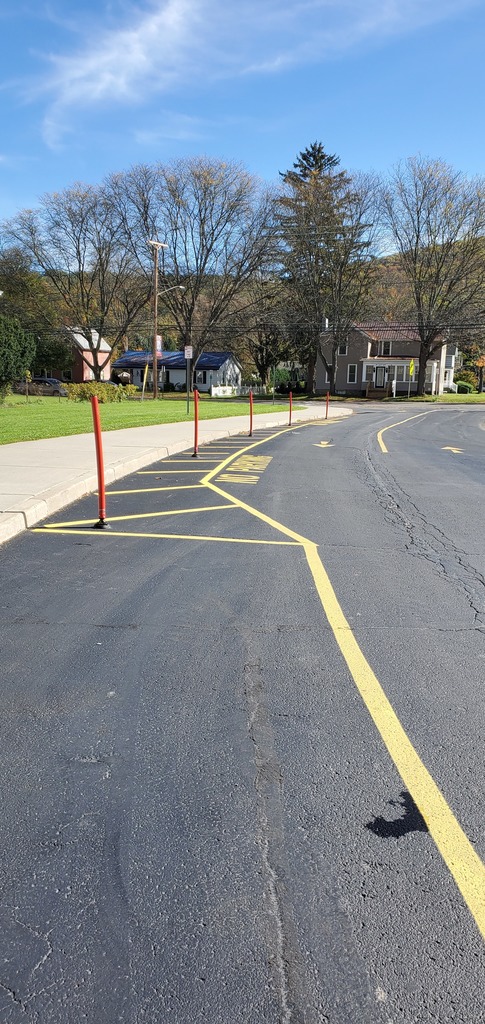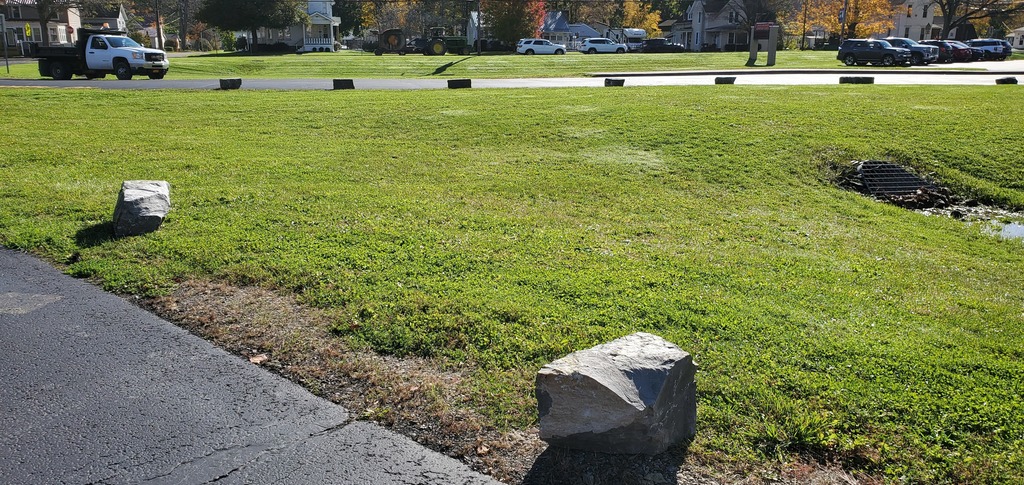 Good afternoon, We wanted to take this opportunity to let our community members aware of a social media post that has been circulating throughout New York state yesterday and apparently across some other parts of the country today. Here is a copy of the language of the post appearing in the SnapChat app: "I needed a new account to make this, me and my friends have gotten bullied for too long and we can't take it no more. October 26th, Tuesday at [times vary], we will be shooting up [schools vary]. We plan on shooting 10 administrators and 50-70 kids...." Unfortunately, a GST school was identified yesterday in one of the hoax posts and have been dealing with it over the past 24 hours. At this time, Canisteo-Greenwood has not been identified in any post, but we wanted you to be aware of the post and are monitoring it closely. Please find below a copy of a message that the Corning Painted-Post Superintendent released today, as well as a Steuben County Sheriff Press Release. CPP Superintendent Message to Community – "I am following up on our communication from yesterday regarding the social media trend with a potential "threat". I know that this particular social media post circulating in our community, State and nation is causing much stress and fear. These posts are circulating all over NYS and today even in Alabama. We have worked closely with local law enforcement to investigate these posts and they have worked with law enforcement agencies across the State. Please read their Press Releases carefully. I have also included links to our local t.v. station stories." PRESS RELEASE Corning PD Yesterday, October 26, 2021, the Corning Police Department was made aware of the social media "threat" circulating on a popular platform across the nation and worked with the Corning Painted Post School District, Steuben County Sheriff's Office, FBI, and NY State Police during this investigation. At this time, the Corning Police Department has not identified any credible threats to the Corning Painted Post School District, or any other school districts in our area. The Corning Police Department has learned that the social media threats have shown up in multiple schools in other areas of New York State, and the rest of the nation, using very similar language. The Corning Police Department will continue to monitor trends of this nature throughout the U.S and New York, and we will routinely be in contact with members of the FBI - Corning Office and the New York State Police as well as our other law enforcement partners to keep apprised of any investigative developments. We will continue to work with and communicate with the Corning Painted Post School District to strive to keep our students and community safe. If there are any updates that directly impact the Canisteo-Greenwood Central School District, we will inform our community immediately. Yours in service, Tom
Good morning, This week the district will be installing permanent "no parking" barriers to assist us in providing a safe drop-off and pick-up zone at the elementary school. The idea behind the "no parking" zones is to eliminate individuals from crossing potential traffic in the loop, and to allow easier 2-way traffic at the mouth of the driveway. Although we may not have enough of the new barriers to replace ALL the cones that are out front, we are asking that you please adhere to the "no parking" areas (barriers and pavement markings) during student drop off and pick up. Your assistance is greatly appreciated.
This week, CG reported a positive high school student and an elementary staff member to the county. The contact tracing was completed and all affected families for quarantine have been notified. We wish our student and staff member a healthy and quick recovery.
Elementary students will be celebrating Halloween one week from today!
Since our last report on Tuesday, the district has reported 3 cases (1 HS teacher and 2 HS students) to the county. The 3 cases yielded 4 close contacts for quarantine. All the affected families have been contacted. We wish a speedy recovery to all. As we continue to see our numbers decline, our covid communication will become limited. If you are interested in the most up-to-date information regarding CG cases, you can visit:
https://schoolcovidreportcard.health.ny.gov/#/home
or our website and this link is on the district's front page. Have a great weekend! Tom
Good afternoon. Since our last report on October 4th, the district has reported 10 new cases (7 HS students, 2 Elem, 1 HS teacher). Contact tracing has been completed and the affected 12 close contacts have been contacted for quarantine. A number of today's cases are direct contacts to someone inside their home and have been in quarantine yielding our smaller quarantine numbers. Tuesday - Thursday of last week, we did not have any cases to report so today's numbers are from Friday and today.
Elementary pictures will be taken on Tuesday, November 2, 2021. Order online from inter-state.com/order. Order code is on Seesaw.
Tomorrow, Friday October 8th, our girls' varsity soccer team will host Alfred-Almond in the first round of the Steuben County Soccer Tournament. This contest will start at 6:00pm at the Elementary School. Wear red and white and show off your C-G pride!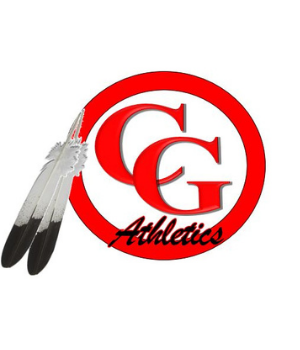 Since our report on Thursday of last week, the district has submitted 3 new high school student cases and 1 high school teacher case to the county. The contact tracing has been completed which yielded 8 student quarantines. All of the affected families for quarantine have been contacted. We wish all who are covid positive a healthy and speedy recovery. Many of our cases continue to be from contact with a positive household/family member. We ask that parents continue to monitor for any symptoms and keep your children home if you have any doubt.
Good afternoon, CG is reporting 3 positive cases today (2 HS students and 1 Elem Teacher). All contact tracing efforts have been completed and the 5 families have been notified. We wish all a healthy and speedy recovery.