As County Basketball Tournaments start this week, this is a reminder that there is a $2.00 admission fee to all JV and Varsity County Tournament games
When CG cancels after school activities, the Fitness Center will be closed as well.
Due to projected rain and temperatures hovering around 32 degrees this afternoon , ALL after school activities are canceled for Wednesday, January 25th.
Please be patient this morning with our buses. Many are navigating icy conditions and are waiting for assistance from the sanders.
Next Wednesday's Dual Meet Wrestling Sectionals in Pal-Mac will be digital ticketing only. Please click on the link to purchase your tickets prior to attending the event. LET'S GO CG and bring home another title!
https://gofan.co/app/events/836952?schoolId=NYSPHSAAV
To pay tribute to long-time CG family member , Stacy Bacon, who spent 28 years serving our children and community, we are asking students and staff to wear either Buffalo Bills or CG attire to school, Friday, January 6th. She loved her Bills and CG Family!
Due to the impending storm and its uncertainty, Canisteo-Greenwood Central School is closed today, Thursday, December 15th.
Good evening, Although deep down I knew that this day would eventually come, I wasn't expecting it to be in the middle of our work with the Mascot Committee and community involvement through a survey and community meetings. My goal was to provide the community the opportunity to voice their opinions and concerns around the use of the Redskins mascot and assist the committee in providing feedback to make a recommendation to the Board of Education. I wanted you to hear from me first, before it breaks in the news cycle, that the State Education Department just released a memo to all schools regarding the use of Native American Mascots. I will summarize the memo to let you know that "those districts that continue to utilize Native American team names, logos, and/or imagery without current approval from a recognized tribe must immediately come into compliance (referring back to a 2001 memo from then Commissioner to change Native American mascots and the current Dignity Act)...."should a district fail to affirmatively commit to replacing its Native American team name, logo, and/or imagery by the end of the 2022-2023 school year, it may be in willful violation of the Dignity Act. The penalties for such a violation include the removal of school officers and the withholding of State Aid". In all fairness to the committee and their time, I will recommend that we "finish" our work and review the survey results and community meeting feedback. I think it will be fair for the community to know how those results transpired. We have come to far to stop. I am sure there will be much conversation in the upcoming days and I will have some time to process this, but you needed to know before it hit the news cycle tonight. Yours in service, Tom
The Mascot Committee would like to thank all community members who attended our meetings the past two evenings. Your input is greatly appreciated as we now move forward with our review of the survey results, and comments from the meetings. Our plan is to make a recommendation to the Board of Education at their December meeting. If you have not had the opportunity to voice your opinion or concerns, the survey link will be open until the end of the day tomorrow (Nov 18). For the link to the survey, scroll to the bottom of the resources page. Thank you.
https://www.cgcsd.org/page/mascotcommittee
Good afternoon, we are assessing a brush fire between Canisteo and Greenwood. As of right now, Route 248 is clear except for some possible emergency vehicles and our bus routes are clear. Our drivers have been alerted of possible smoke and road closures. If a bus route is closed over the next hour, we will be reaching out to let the parents know.
Good afternoon. Early this morning we received a call from a neighboring district stating they had someone on their property that was attempting to get into their school building and was asked to leave. Unsure of where the individual was going in their vehicle, I decided to put our buildings into "Lock Out" until we knew that the person was not a threat. In a Lock Out situation, school is in normal operation, but no one can exit or enter the building. We were in Lock Out for approximately 30 minutes. After talking with authorities, there was not a threat of the individual entering the village of Canisteo and we were clear to resume normal operations. Yours in service, Tom
Happy Halloween from CGES! Just a reminder that parents/visitors can sign in at 1:00 to help with classroom parties/costumes. The student Halloween parade will begin at 1:30 in the front loop. Parents can sign children out with their teacher after the parade ends.
Statement from the Canisteo-Greenwood School Superintendent: Today, the Hornell Sun posted a story titled, "Goodbye Redskins: Canisteo-Greenwood drops mascot after Seneca Nation request." and yesterday WLEA posted a story titled "State Forcing Canisteo-Greenwood to Drop "Redskins"". These headlines are misleading and do not accurately reflect the work that is underway in our district. After receiving input from the Seneca Nation and in light of pending legislation regarding public schools' use of Native American names or imagery in school logos, we decided to create a Mascot Committee. This team, made up of community members, staff members and students, is in the process of discussing the issue and seeking public input and will ultimately make a recommendation to the Board of Education. The committee has met four times to date and will host 2 community meetings in November. A community survey is currently open at:
https://www.cgcsd.org/page/mascot-committee-recources
The feedback collected will be taken into consideration before a recommendation is made. I hope that this message results in a revision of the posted headlines. Please feel free to reach out to me regarding any district matter at any time. I welcome the opportunity to share information about C-G with our community. Yours in service, Tom
Come cheer on our CG Athletes this weekend for the first round of sectionals. On Friday the CG Varsity Football will be hosting Mynderse Academy at 7pm $6 Entry Fee. On Saturday the lady CG Varsity Volleyball team will be hosting Addison at 10am no charge. Let's Go CG!!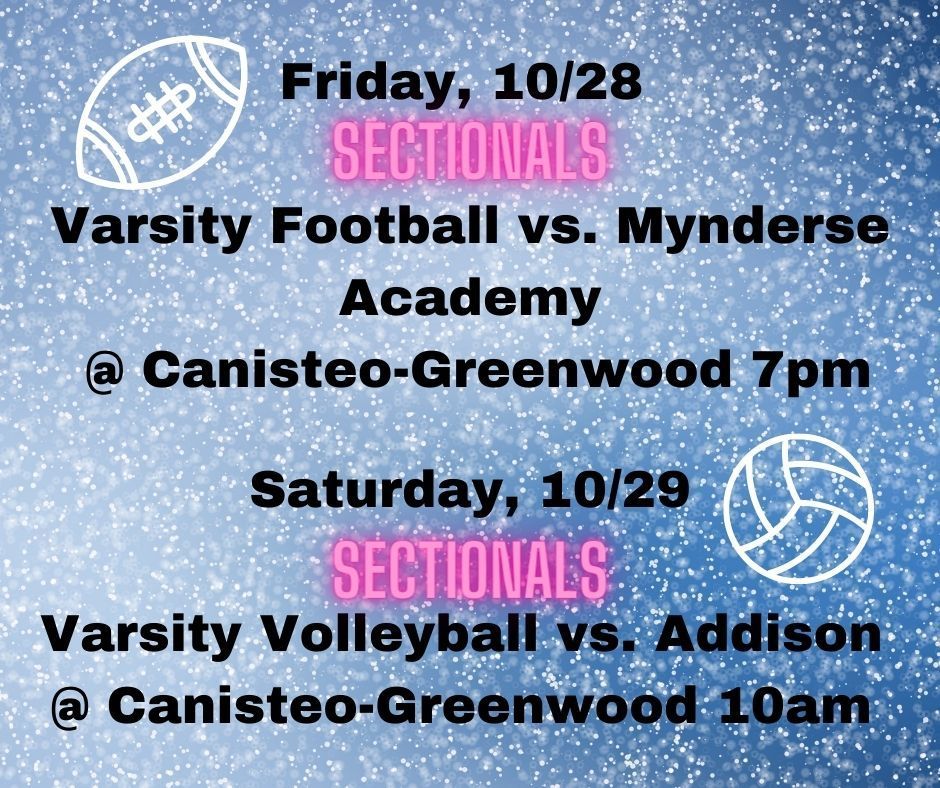 Dear CG Family, In July of 2020, I was directly contacted by the Seneca Nation regarding the use of our mascot. Dr. Stahlman and I had a few conversations around the use of the Redskins for our mascot but at the time, I was solely focused on getting our kids back in school after the abrupt closure of school in the spring due to the covid pandemic. I asked him to please give me some time to get the kids back in school and we would pick up our conversations after we dealt with covid. Well, 2+ years later, here we are. During those past few years, we have seen some changes throughout the country and New York State around the use of Native American mascots. The Washington Redskins are now the Washington Commanders, and the Cleveland Indians are the Cleveland Guardians. A little bit closer to home, Odessa-Montour and Waterloo recently changed their names over the summer from Indians to Grizzlies and Tigers, respectively. There are currently two remaining schools in New York State with the mascot of Redskins. And in the country, it is just over 40 in total. In New York State, Senator Biaggi from the 34th Senate District has proposed BillS1549E that would prohibit public schools from using a native name, logo, or mascot. The bill has been amended and recommitted to the Education Committee five times since its introduction on January 13th of 2021. Typically, in the Senate, if a Bill were not going to "make it through," it would be introduced to the Education Committee once and stop there. It has been amended and recommitted five times to date which means it has a good chance of passing. If the Bill passes, it will be signed into law and become effective immediately. There is even some rumor that the issue may be legislated to end the "discussion" around this and just mandate it. As I have stated before, if we feel that it is going to be mandated to change it, let us do it on our own terms as a community. That is why we decided to create the Mascot Committee and invite community members to join. The original thought was to have 15 members on the committee with 5 community members, 5 staff members and 5 students. After all who stated interest in the committee, we ended up with 18 members. There were 3 individuals that stated interest but because they had just participated in our Mission and Vision Committee, I asked that they "give up their spot" to another interested community member and they graciously accepted. Unfortunately, some members have had to back out after being selected due to scheduling conflicts. The committee has met 4 times to date and has created a timeline for their recommendation to the Board of Education. The conversations have been extremely professional and productive with all voices and opinions heard. Now they want to make sure that all your voices are heard. Please take some time to read the supporting documents that are posted on the website. After you have spent some time with those documents, we ask that you please fill out the survey at the bottom of the Mascot Committee Resources webpage. Your feedback will assist the committee in preparing for the community meetings in November and allow them to focus on the most asked questions and concerns that our community members have. Community Meetings: November 15th – Greenwood School – 6:00pm November 16th - Canisteo-Greenwood High School – 6:00pm Meet the Committee Members: Robin Robarge – Community Member and Alum Don Lewis – Community Member and Alum James Freeland – Community Member, Staff Member, and Alum Riley Bloom – Student Steve Morse – Community Member and Alum Jon Amidon- Staff Member and Community Member David Prete – Community Member Nichole France – Community Member and Alum Sarah Fuller – Community Member and Alum Erin Freberg – Community Member and Alum Domonic Dennis – Student Isabell Dennis – Student Bryan Lewis – Staff Member Scott Burdick – Community Member and Alum Jaiden Weitzel – Community Member and Alum Kelly Houck – GST BOCES District Superintendent – Committee Moderator and Subcommittee Facilitator Tom Crook – Canisteo-Greenwood Superintendent – Observer, Subcommittee Facilitator, Community Member, and Alum Please click here for the District's Webpage created by the Mascot Committee:
https://www.cgcsd.org/page/mascot-committee-recources
Just a reminder that we are having our surplus furniture sale tomorrow at the Greenwood Bus Garage! 9am - 1pm. Folding chairs have been added to the lot. CASH ONLY
Tomorrow, we encourage our students and staff to wear their CG gear to participate in the nationwide "Get Your Teach On" ROCK YOUR SCHOOL day. Let's show our school spirit and GYTO how much our district rocks!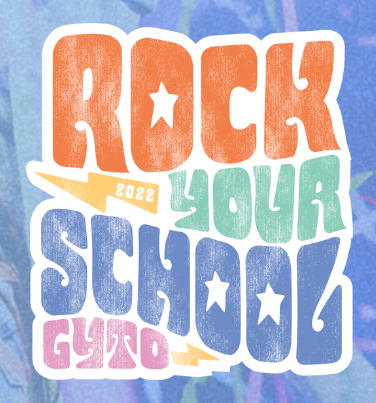 Just a reminder, even though CG does not charge for all home sporting events Section V is charging $6 for each sectional game. Girls Varsity soccer sectional game is tonight against Bishop Kearney and Boys Varsity soccer sectional game is scheduled for tomorrow night at Marcus Whitman.
Good afternoon, we are learning of a potential email scam that is going through our staff directory. If you receive an email from any of our employees that looks suspicious and contains a voicemail attachment, please delete the email immediately and do not click on the attachment. Our tech department is currently addressing the situation. Thank you for your patience.