Tonight's Girl JV Soccer game is postponed.
The previous announcement only applies to CG area activities that were going to be OUTSIDE. The practices outside will either be moved inside, rescheduled, or canceled. The away JV Soccer Game is still happening and all INDOOR activities (practices or contests) are still occurring.
Due to the heat index and regulations, ALL CG outdoor activities are canceled until 6pm. Please contact your coaches for either practice movements or cancelations.
Good afternoon and welcome back! This is just our annual friendly reminder that in the pick-up/drop-off loop at the elementary school, there are areas that we kindly ask you do not park for safety reasons. Please review the diagram for the areas marked in yellow. These areas are marked with either "No Parking" printed on the pavement, striped areas, posts, or boulders. Thank you for your cooperation.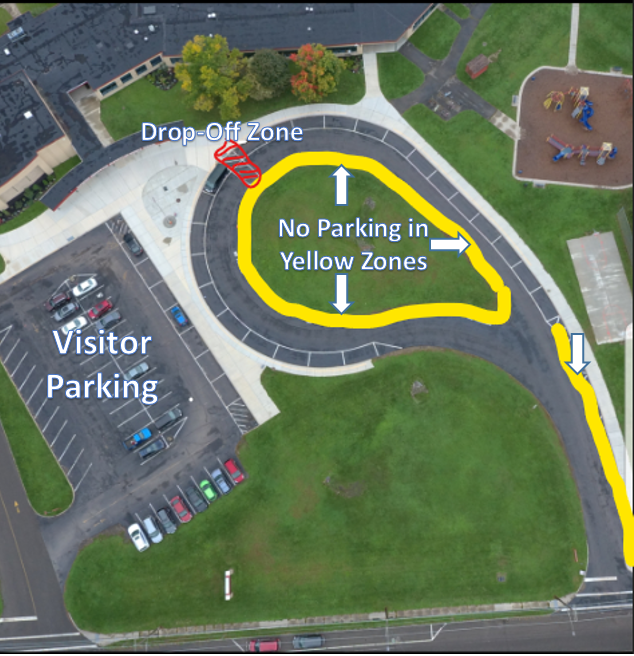 Welcome back to the 2023-2024 school year at Canisteo Greenwood Central School District. We are happy to have you back!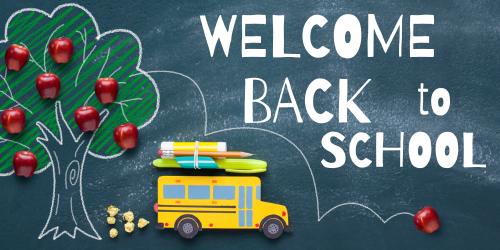 Once again, Section V has postponed the Girl's Flag Football semi-final game. It is now scheduled to be played tomorrow (Friday, 6/9) at CG starting at 6:15pm. Go CG!
For anyone planning on attending tomorrow's (Thursday) Girl's Flag Football game at 5pm and you want to park at the school (on grass field above parking lot), you MUST be there by 4:45pm if you want to park. Anyone that arrives after 4:45pm will be asked to park their vehicle at the high school and walk to the field. The Crazee Daze parade line up starts at 5pm, so we cannot have football game traffic attempting to get in. Sorry for the inconvenience but this is the best plan to avoid the conflict with the parade. Go CG and Go Crazee Daze!
Good afternoon. With the Girl's Flag Football Sectional Semifinal being rescheduled for Wednesday evening due to air quality concerns, the Athletic Award ceremony previously scheduled for Wednesday evening has been cancelled. Please have your student athletes look for information from their coaches involving individual team plans regarding awards. Thank you
Due to the current Air Quality advisory, tonight's Girl's Flag Football sectional semi-final game has been postponed to tomorrow, Wednesday, June 7th. All digital tickets will be honored for tomorrow's game.
The June Board of Education meeting has been changed to Monday, June 5th at 6:00pm in the high school conference room.
Fans planning on cheering on our track and field athletes at Sectionals (hosted by Attica CSD on Saturday, May 27th starting at 10:00am), please be aware that this event is digital ticketing only. Use the link below to purchase your ticket. GO CG!
https://gofan.co/app/events/987815?schoolId=NYSPHSAAV
Dear CG Family, While we have made the decision to retire the mascot, it is important for us to remember that our small-town (Canisteo and Greenwood) pride remains an integral part of who we are as a combined community. The mascots may have symbolized our identity in the past, but our small-town spirit extends far beyond a mere symbol. We are rooted in the values, traditions, and the collective pride we share in our towns, and this is why many alumni have chosen to "stay home." Small-town pride reflects our close-knit community, where neighbors know each other, see each other's children grow up, wave to everyone driving by, and help in times of need. It is the bond that brings us together during local events, celebrations, and cherished traditions and the unwavering support we provide to our local businesses, schools, and organizations. I know changing the mascot is difficult and emotional, but it does not diminish who we are as a collective community. Our pride is not solely tied to a symbol; it is a testament to our shared history, the character of our residents, and the love we hold for each other and our towns. As we move forward, let us remember that our pride transcends any single representation. It is our spirit that can be embodied through acts of kindness, support for one another, and a commitment to building a stronger community for our children. Let us honor our shared values (resiliency, compassion, mutual respect, dignity, and community support), cherish our traditions, and continue to foster the intense sense of community that truly defines who we are. Together, we can embrace change while preserving the essence of our beloved district. Let our pride shine through our actions, our unity, and our unwavering commitment to the betterment of our community for future generations. Our small-town pride will continue to flourish, reminding us that we are a resilient and extraordinary community, bound together by the common thread of love and dedication we have for our homes. Yours in service, Tom
Won't you bring an unopened box of cereal to school by June 15th for our 2nd Annual Leadership Day event? Lets see if we can make them tumble all the way around the building this year!
Reminder there is no school this Friday, May 26th due to an unused snow day. Enjoy your Memorial Day Weekend!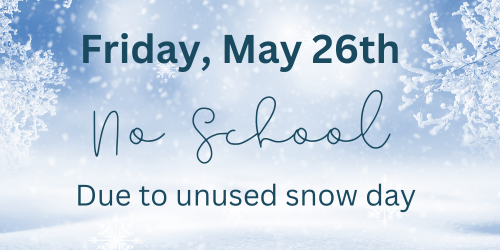 This is just a friendly reminder to those attending the Track and Field Championship tonight at Campbell-Savona, there will be a $2 entry fee. GO CG!
Congratulations to Canisteo Greenwood's Class of 2023 Top Ten Academic Students!
We are excited to announce that the Mascot Committee has created their final list of ideas for our new mascot. We want to thank our CG community for their submissions (442 responses) as it helped determine the list you see here. We want to fill you in on how we arrived at this list. After the submission deadline, a handful of committee members sat down and started combing through the list of proposed names. We created a list of 16 that was then put forth to the Board of Education and the rest of the committee members for feedback. After the feedback was gathered, the committee, along with a Board member as an observer, reduced the list to what we believed was the best 8. A beginning list of 8 proposed names allows our students to vote for a new mascot in a few short weeks. During the committee work that started in September of 2022, a subcommittee was created to discuss what the process could potentially be if a recommendation were made to retire the mascot. Two major points were discussed: the committee believed that we should not choose any mascot of surrounding schools or schools that we play on a regular basis AND the new mascot should be fresh and unique to CG. The Mascot Committee felt now was the perfect time to move forward with a brand-new mascot that represents us all. It is our great privilege to present to you the final 8 that our students will be voting on: Condors Coyotes Red Dragons Raptors (bird of prey, not dinosaur) Chargers (highlighting the C and G in the word – could be either bolt or horse themed) Comets Fire Hawks Thunder (w/potential for a locomotive theme) The students will begin voting on Monday, May 15th. On May 22nd, they will vote on the top 4 from the previous week, and on May 30th they will choose between the final two. The winning mascot will be revealed sometime in June and a mascot logo will be created shortly after. Yours in service, Tom and the Mascot Committee
As many of you know, with the Mascot Committee's recommendation, along with the NY Board of Regents requirement, the CG Board of Education passed a resolution to retire the Redskins mascot at the end of this school year. In preparation for this possibility, during their original work, the Mascot Committee designed a selection process that the district will now follow to select a new mascot. Here is the timeline for the selection of a new mascot: - ALL community members are welcome to submit their ideas to the Mascot Committee starting today through May 3rd, 5pm. (link below) - the Mascot Committee will meet to review the submissions from the community and select a number of mascots to be considered. - Starting May 8th, the students will be voting each Monday using a tournament style bracket (Mascot Monday). Depending on the amount of mascot names to be considered, this process is projected to take approximately 4 weeks. - the new mascot will be announced to the community sometime in mid-June. - once a new mascot is chosen, the district will be working to create a new logo over the summer with individuals who recommended the winning mascot (why we are asking your name in the survey) This timeline will allow the district to begin its 2-year rebranding process and start as early as next fall. We are humbled and honored to be able to involve the entire community in this selection process. Although our mascot is changing, the qualities that make CG students, staff, and alumni are not changing. We urge you to submit ideas that embody these qualities and you would feel proud of our students wearing. Please take a few moments and fill out the survey below. If you know of someone who may not see this message, please pass the link to them so they may be able to submit ideas and not miss out on the opportunity.
https://forms.office.com/r/vcnUdaTMNq
Yours in service, Tom
Dear CG Families, Recently the district learned that the City of Hornell, who have provided Advance Life Support (ALS) services or 'paramedics,' to our community no longer has a current service agreement with our village. ALS services are governed by a Certificate of Need, a document that establishes the legal boundaries for ambulatory services across different communities. The Village of Canisteo's Certificate of Need covers the village itself, the Town of Canisteo, and the Town of Hartsville. In the past, the City of Hornell's ALS has worked closely with our communities' volunteer emergency services to help provide the most rapid and comprehensive responses to medical crises. Without a current service agreement, Hornell can no longer provide this rapid lifesaving care and emergency response to these communities. In an effort to ensure the safety of our students and staff during school days, the district reached out to the City of Hornell to inquire about contracting for ALS directly. Unfortunately, after research and investigation we have determined that the district is not legally able to contract with the City of Hornell because it exists within the boundaries of the Village of Canisteo's Certificate of Need. The district will continue to work diligently to return this added measure of safety and access to rapid lifesaving care on behalf of your students and our staff. However, we are at the mercy of negotiations between the City of Hornell and the Village of Canisteo currently. Yours in Service, Tom Crook, Superintendent of Schools Canisteo-Greenwood Board of Education
Dear CG Community, As you know, over the past few years, we have been discussing the use of the Redskins mascot. After initially being contacted by the Seneca Nation and being informed that the State Education Department may have been acting to eliminate Native American themed mascots, we decided to form a Mascot Committee of community members, staff, and students. Beginning in September 2022, these 18 volunteers did some fantastic work and made sure our community was provided with the opportunity to speak openly regarding this topic. Through a survey which garnered over 100 responses, and two open community meetings, it was determined that public consensus was open to retiring the mascot. On November 17th, the day immediately following our last community meeting, the New York State Education Department (NYSED) released a memo stating that all New York school districts with Native American mascots and imagery must end their use by the end of this school year. NYSED allowed a 60-day comment period on this memo. On April 18th, after the conclusion of the comment period and reviewing the comments, the Board of Regents unanimously voted to require districts to drop their Native American mascots and imagery no later than June 30th, 2023. In response to the work of the committee and their findings, along with the Board of Regents requirement, the Canisteo-Greenwood Board of Education passed a resolution to retire the Redskins mascot effective June 30th, 2023, at the April 19th Board Meeting. In preparing for this as a potential outcome, the Committee had developed a process for stakeholders to assist in selecting a new mascot. I will contact the committee this week asking them to assist in their proposed selection process. We are hopeful that with community input of new mascot ideas and the students selecting the new mascot through weekly voting, we will be able to announce to our community a new mascot by the end of the school year. I want to personally thank the community for your involvement and support through this tough process. Although our mascot may change, the great qualities that make CG and its students, staff, and alumni special will not. We will continue to cultivate greatness and be committed to the success of our students, staff, and alumni. Yours in service, Tom