Parents/Guardians Due to unused snow days all Canisteo-Greenwood Schools will be closed on Monday, April 10th and Friday May 26th.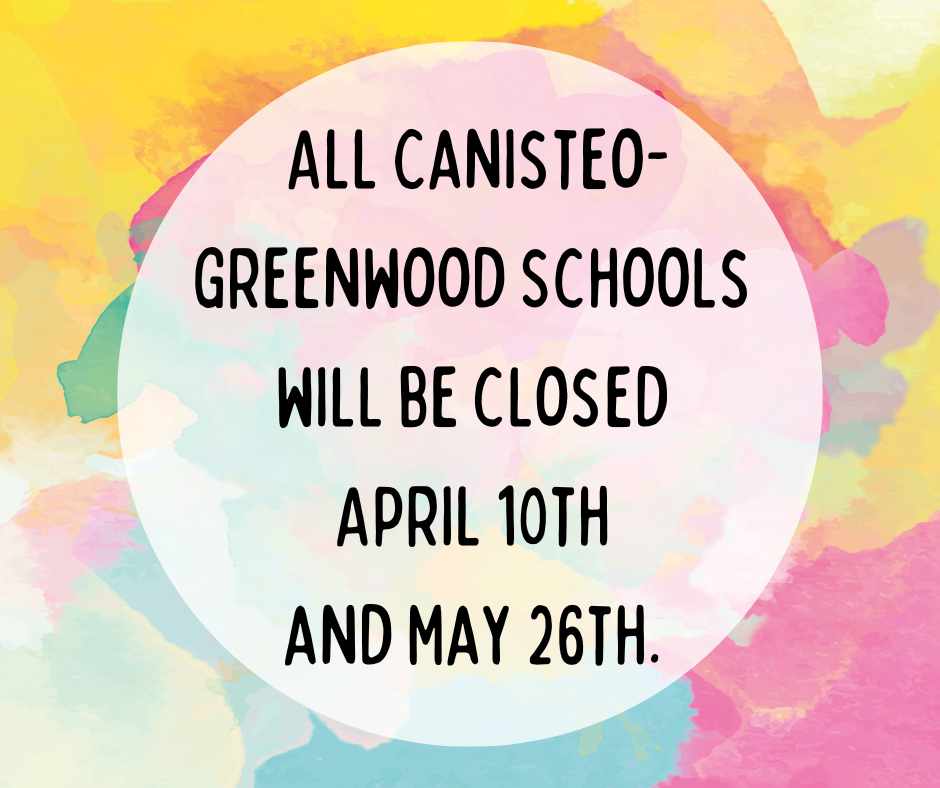 If you are the parent/guardian of an athlete who is participating in a sport this Spring, please log onto Operoo and fill out athletic forms. Thank you and enjoy your weekend.
IMPORTANT SCHEDULE CHANGE: Tomorrow's Girls' Basketball Sectional Final game in Rush-Henrietta will now be a 6:00pm start. Spectator bus will leave the high school at 4:30. Tomorrow's game is digital ticket only.
https://gofan.co/app/events/836905?schoolId=NYSPHSAAV
IMPORTANT UPDATE: Tomorrow's Boys' Sectional Basketball game against Geneseo will be played @ Cal-Mum. The game will start 7:00pm.
Good evening, Out of an extreme abundance of caution regarding the norovirus that is rapidly spreading through our students and staff, the High School will also be operating remotely tomorrow and Friday. Students are to follow their bell schedule remotely in Teams and attendance will be taken. There will be no students attending BOCES. All after school activities will tentatively continue as scheduled and students must attend virtually to be able to participate. We apologize for any inconvenience this may cause.
Dear Elementary Parents/Guardians, Due to an incredible amount of illness in the elementary school, the District has decided to have the Elementary School go REMOTE for Thursday, February 16th AND Friday, February 17th. There is a stomach bug that is running rampant throughout the staff and students. Today we have close to 200 absences between the students and staff, with a nurse's suite full of sick students. The students will be asked to take their devices home today in preparation for the next 2 days. Teachers will be asked to push out academics and can schedule times for students to remote into the classroom. The day will start at 10am and will have scheduled blocks of ELA and Math. Please be on the lookout for messages from the teachers through the SeeSaw platform. We will take time next week to do a deep cleansing and disinfecting of the school. Please make sure that your child brings their device back after the break. We apologize for the inconvenience that this may cause for some of our families but with close to 40% of our student and staff population out and rising, we feel that it is in the best interest of all. Please know I did not make this decision lightly. Yours in service, Tom
Due to reports of icy roads in multiple locations, Canisteo-Greenwood will be operating on a 2 hour delay for Thursday, February 9th.
As County Basketball Tournaments start this week, this is a reminder that there is a $2.00 admission fee to all JV and Varsity County Tournament games
When CG cancels after school activities, the Fitness Center will be closed as well.
Due to projected rain and temperatures hovering around 32 degrees this afternoon , ALL after school activities are canceled for Wednesday, January 25th.
Please be patient this morning with our buses. Many are navigating icy conditions and are waiting for assistance from the sanders.
Next Wednesday's Dual Meet Wrestling Sectionals in Pal-Mac will be digital ticketing only. Please click on the link to purchase your tickets prior to attending the event. LET'S GO CG and bring home another title!
https://gofan.co/app/events/836952?schoolId=NYSPHSAAV
To pay tribute to long-time CG family member , Stacy Bacon, who spent 28 years serving our children and community, we are asking students and staff to wear either Buffalo Bills or CG attire to school, Friday, January 6th. She loved her Bills and CG Family!
Due to the impending storm and its uncertainty, Canisteo-Greenwood Central School is closed today, Thursday, December 15th.
Good evening, Although deep down I knew that this day would eventually come, I wasn't expecting it to be in the middle of our work with the Mascot Committee and community involvement through a survey and community meetings. My goal was to provide the community the opportunity to voice their opinions and concerns around the use of the Redskins mascot and assist the committee in providing feedback to make a recommendation to the Board of Education. I wanted you to hear from me first, before it breaks in the news cycle, that the State Education Department just released a memo to all schools regarding the use of Native American Mascots. I will summarize the memo to let you know that "those districts that continue to utilize Native American team names, logos, and/or imagery without current approval from a recognized tribe must immediately come into compliance (referring back to a 2001 memo from then Commissioner to change Native American mascots and the current Dignity Act)...."should a district fail to affirmatively commit to replacing its Native American team name, logo, and/or imagery by the end of the 2022-2023 school year, it may be in willful violation of the Dignity Act. The penalties for such a violation include the removal of school officers and the withholding of State Aid". In all fairness to the committee and their time, I will recommend that we "finish" our work and review the survey results and community meeting feedback. I think it will be fair for the community to know how those results transpired. We have come to far to stop. I am sure there will be much conversation in the upcoming days and I will have some time to process this, but you needed to know before it hit the news cycle tonight. Yours in service, Tom
The Mascot Committee would like to thank all community members who attended our meetings the past two evenings. Your input is greatly appreciated as we now move forward with our review of the survey results, and comments from the meetings. Our plan is to make a recommendation to the Board of Education at their December meeting. If you have not had the opportunity to voice your opinion or concerns, the survey link will be open until the end of the day tomorrow (Nov 18). For the link to the survey, scroll to the bottom of the resources page. Thank you.
https://www.cgcsd.org/page/mascotcommittee
Good afternoon, we are assessing a brush fire between Canisteo and Greenwood. As of right now, Route 248 is clear except for some possible emergency vehicles and our bus routes are clear. Our drivers have been alerted of possible smoke and road closures. If a bus route is closed over the next hour, we will be reaching out to let the parents know.
Good afternoon. Early this morning we received a call from a neighboring district stating they had someone on their property that was attempting to get into their school building and was asked to leave. Unsure of where the individual was going in their vehicle, I decided to put our buildings into "Lock Out" until we knew that the person was not a threat. In a Lock Out situation, school is in normal operation, but no one can exit or enter the building. We were in Lock Out for approximately 30 minutes. After talking with authorities, there was not a threat of the individual entering the village of Canisteo and we were clear to resume normal operations. Yours in service, Tom