Dear Community, On July 14, 2020, the District put out a message to the community regarding the need to put together a community steering committee to start discussions about whether the district should continue to use the Redskins mascot. We had been in direct conversation with the Seneca Nation regarding the use of the mascot. Because we were dealing with the pandemic and trying to keep school open and everyone safe, the conversation was put on hold. There have been many news stories in New York over the past two years with New York schools being required to change their name (Warriors) and a school district (Cambridge) recently lost an appeal to change their name BACK to the Indians. Just last week, Odessa-Montour announced that they are changing their mascot from the Indians to the Grizzlies. In addition, there currently is a bill in the New York State Senate (S1549E) regarding the use of Native-American mascots by schools. If changing our mascot is on the horizon, we should start addressing it prior to any announcement and do it on our own terms as a community. We are looking for individuals that would be interested in serving on the committee and assisting the district in determining the use of our mascot. We would request that the committee begin their work this summer. Although we do not want to limit the number of people on the committee, our expectations for committee members will be as follows: Attend all scheduled steering committee meetings May be asked to lead a subcommittee Fiscal impact on the district Community Forum Set Up and Engagement New Mascot Selection Process (if recommended or required) Participate in respectful conversation and with an open mind Organize one informational forum for the community. Chosen presenters will provide information on the fiscal impact of changing the mascot, the current cases and bill, and how the selection process will go if recommended or required. The steering committee will submit their recommendation to the community and the Board of Education. If a new mascot is recommended or required, the committee will determine how the selection process will go and may implement it any time after their recommendation. We want to make sure that we have representatives of all interested parties, so we are looking for: Up to 5 community members Up to 5 staff members Up to 5 students PLEASE REMEMBER THAT THIS IS THE BEGINNING OF OUR CONVERSATION AND NO DECISIONS HAVE BEEN MADE AT THIS TIME. If you are interested in becoming a steering committee member, please email
tcrook@cgcsd.org
Yours in service, Tom
Attention all CG Athletes-Want to get ready for the fall season? Bored and need something to do? Want to hang out with the cool people? Need to get fit? CG is offering an Athletic Performance Camp hosted by our Athletic Trainer Leslie Moose on August 9th and 11th at the Elementary School. Register at
https://forms.gle/rkYJPzcwGYoTRLaw5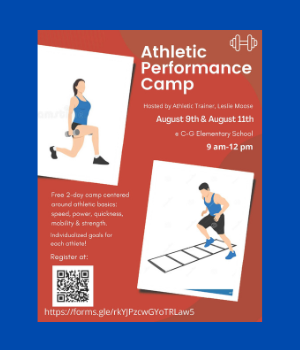 Dear Parent or Guardian, Several years ago, the Canisteo-Greenwood Central School District participated in "Late-Arrival Monday" and prior to my arrival in the summer of 2018, the practice had been removed. After spending several years in the district, I have seen firsthand how the Professional Learning Community (PLC) process increases collective teacher efficacy to help our students learn and I am excited about the prospect of what our teachers can do when given the time they need to meet on a regular basis as a team. The PLC process promotes our teachers to work together in teams (currently when their schedules allow) to ask 4 important questions: "What knowledge, skills, and dispositions should every student acquire"? "How will we know that each student has acquired the essential knowledge and skills"? "How will we respond when some students do not learn"? "How will we extend the learning for students who are already proficient"? Through answering these questions professionally with their peers, teachers can adapt and adjust their teaching practices to assist our students in their learning. The teachers learn from each other regarding best practices and collectively become better teachers because of it. These conversations have a profound impact on our students and their academic performance but the one thing that keeps us from meeting regularly is TIME. All the PLC experts suggest that an hour of guaranteed time to collaborate a week is sufficient. Unfortunately, due to the length of period times (36-40 minutes depending on the school) and prioritizing student needs during scheduling, we struggle to give that quality time to our teachers to allow them to maximize their PLC time. For this reason, for the 2022-2023 school year we are bringing back Late-Arrival Mondays. For those of you who know me, you know that any decision that I make for the district my first thought is the impact that it will have on the students and their families. I am passionate about the PLC process, and I know that it will have a direct impact on our student achievement. I would not be asking my families for a late-arrival Monday if I did not believe in it. I know that pushing back arrival an hour on Mondays could potentially create hardships for some of our families. That is why we are offering the option for families to drop off their children if they have a work-related day care issue. If you have a work-related day care issue, all you need to do is contact your building principal and we will make arrangements for you to be able to drop your child off at school prior to the Monday 8:45am arrival time. Example: you work out of town and have a long commute. You have no one to watch your child in the morning and you must leave for work before 8am. Dropping your child off normally at 7:45am works but there is no way you can drop them off at 8:45am and be to work on time. Give your building Principal a call. We will work with you! For all other families who would not have a conflict, the only thing that happens for you is that everything gets pushed back an hour. If your child gets picked up by the bus normally at 7am, now it would be at 8am on Mondays. If you drop your child off at school between 7:45 – 8:00am normally, now you will be dropping them off between 8:45 – 9:00am on Mondays. I want to thank you in advance for your support of the district and our decision to bring back Late-Arrival Mondays. If you have any questions or concerns, please contact me at
tcrook@cgcsd.org
Yours in service, Tom
Canisteo-Greenwood Elementary school will open its doors to children age 18 and under regardless of where they live or go to school for breakfast & lunch starting July 5th through Aug. 12th. Breakfast is from 8am to 9am and lunch is from 11am to 12pm. Thank you.
Reminder to all Parents-In observation of Juneteenth all Canisteo-Greenwood Schools will be closed on Monday, June 20th. Enjoy your day!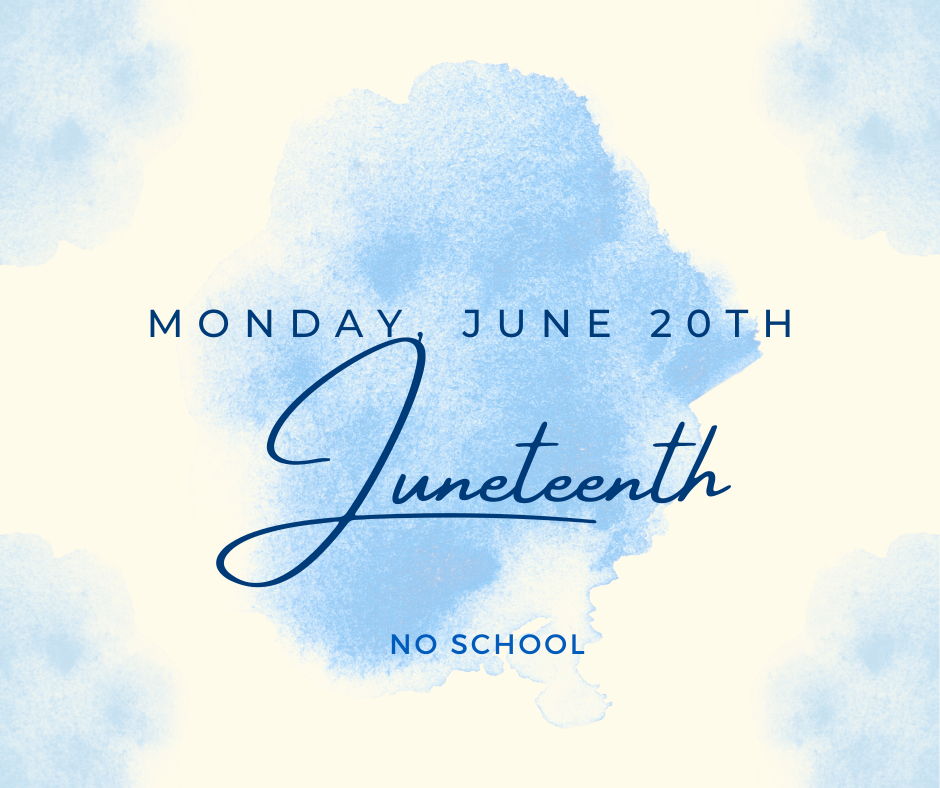 Elementary Parents- Tomorrow is Awards Day. Please park in the back parking lot and use the gym entrance. Kindergarten-8:30am, 1st Grade-9:25am, 2nd Grade-10:05am, 4th Grade-10:45am, 5th Grade-11:25am, TK/PreK-12:45pm, 3rd Grade-1:25pm, 6th Grade-2:05pm.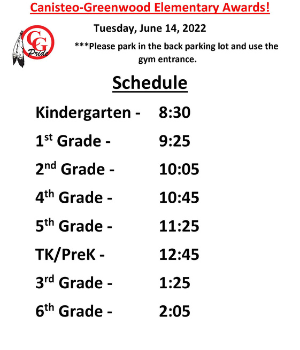 Due to ongoing electrical issues at the BOCES Wildwood Campus, all AFTERNOON and EVENING CTE classes are now canceled for Thursday, June 9th. Junior BOCES students will be dismissed from CG after their 4th period class.
Unfortunately the BOCES Wildwood Campus was unable to rectify their electrical issues today so all MORNING and ALL DAY classes are CANCELED again tomorrow, Thursday, June 9th. A decision will be made by 10am for the afternoon classes. Senior CTE students are expected to attend their core afternoon classes at CG.
Due to ongoing electrical issues at the BOCES Wildwood Campus, all AFTERNOON and EVENING CTE classes are now canceled. Junior BOCES students will be dismissed from CG after their 4th period class.
Due to an electrical failure at the BOCES Wildwood Campus, all MORNING and ALL DAY classes are CANCELED tomorrow, Wednesday, June 8th. They will be making a decision by 10:00am for the afternoon classes. Senior CTE students are expected to attend their core afternoon classes at CG.
Parents- If you are attending the Track & Field State Qualifier at Eastridge School today you must buy your digital ticket online with a QR code. The QR code is also posted on Facebook. Thank you!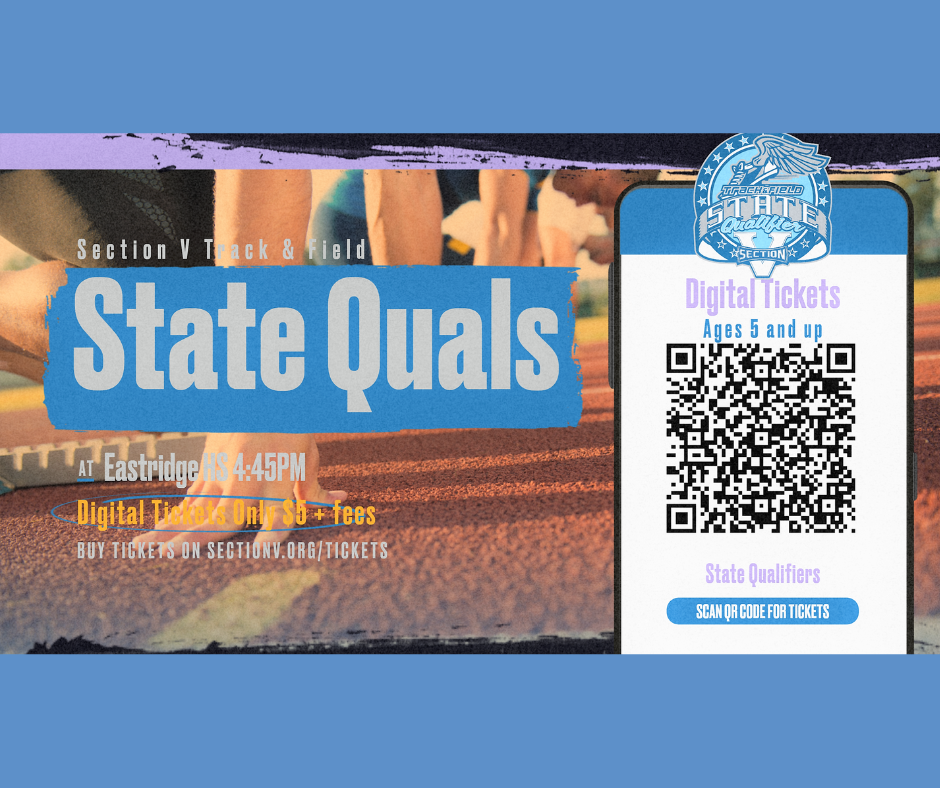 Good afternoon, our field trip buses that are at the Seneca Zoo today are being held up by other school buses and cannot leave until the bus line clears out. With that being said, our entire bus dismissal today will be late approximately 15 minutes and all busing students will arrive home 15 minutes late. Kindergarten parents that are picking up their children at the school, please be advised that they will be coming back to the school approximately 15 minutes later than previously communicated.
Dear CG Community, As I reflect on yesterday's tragic events at Robb Elementary School in Uvalde, Texas, I am heart-broken, angry, confused, and a mix of many other emotions. Today, I am writing to you not only as the Superintendent but more importantly, a fellow community member and parent. At CG, we take our staff and school safety extremely seriously. We have committed to having an SRO (School Resource Officers) in each of our buildings and will continue that practice for as long as I am here. The SROs (Jamie Harwood and Kate Secondo), Chief of Police (Kyle Amidon), and I meet on a routine basis to talk about our safety procedures and are always looking at ways to make our campus safe. The district has taken particularly important steps to limit access of our buildings during the school day with locked exterior doors, badge only access doors, and visitors relying on main offices to buzz them in. Individuals are then in a secured vestibule that only a staff member can buzz them in or have a badge reader. In addition, our SRO offices are located in the front of the building close to the entrance doors and offices. We are also required by law to participate in drills that will help protect our students and staff in a real emergency setting. Each time we participate in a drill, our team, along with law enforcement, will assess how we did and take active measures to ensure a safer environment for our students and staff. The district several years ago purchased software that monitors not only our email correspondence, but social media accounts within the district. There are certain criteria (key words and phrases) that must be met before we get any alert from the company. Any time we get a credible alert, we make sure to put the right people in place to investigate. Although we may not be able to monitor all social media, we at least have a mechanism that may allow us to catch suspicious activity. The program also provides everyone with a place to report any concerns. Upon entrance to our website, you will see in the bottom right-hand corner an icon that reads "Share It." We encourage anyone to report any concerns to the district and we ask that you leave detailed information and contact information so that we may actively investigate any concern that a staff member, student, or community member has. Please know that we take safety seriously. Unfortunately, in times like this we are compelled to look at our own buildings and safety plans to learn lessons from a tragedy in another community and school that is experiencing a devastating loss. Our thoughts are with the families of Uvalde. Yours in service, Tom
Parents/Community Members: Budget Vote tomorrow- If you usually vote at Somers Hall due to construction, we have moved the vote to the Canisteo American Legion. If you vote in Greenwood, that has not changed you will vote at the Greenwood Fire Hall. Both polling places will be open 12pm-8pm. Thank you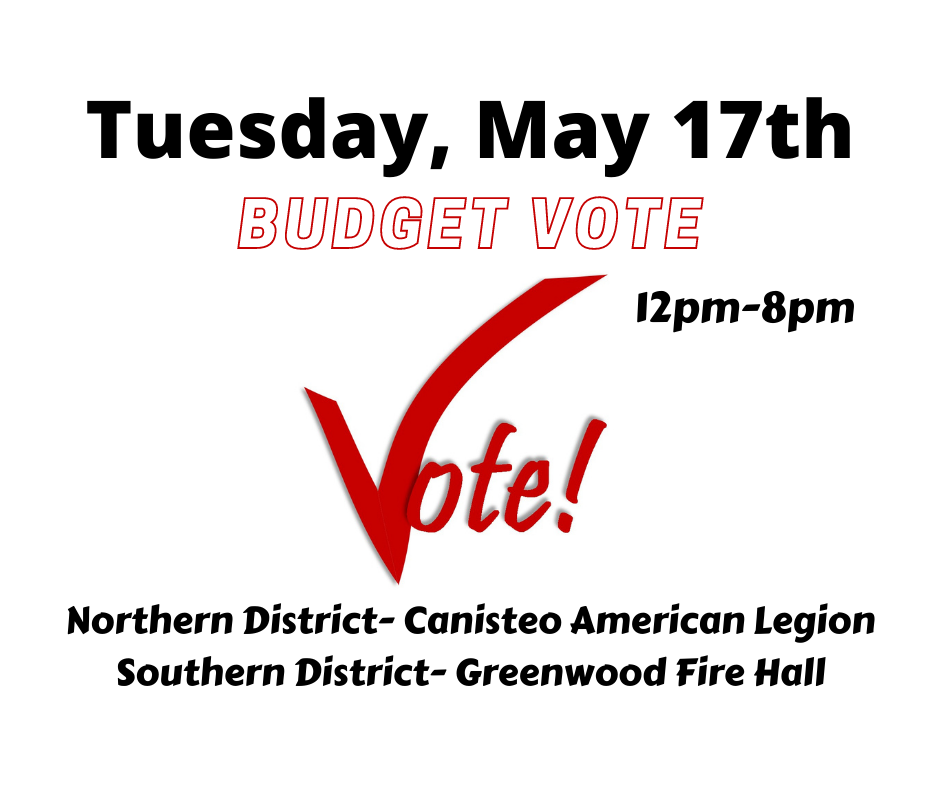 Good afternoon, Due to the district using all our snow days and having to close on February 18th for ice jams, Friday, May 27th will now be a "virtual day" and the students will not be asked to report in-person. We will take this opportunity to do a test-run of what an emergency virtual day would look like in the future. All students (except PreK and Kindergarten) will be asked to take their devices home, Thursday, May 26th. HS students will be required to log into Microsoft Teams for each class and Elementary students will be encouraged to log into SeeSaw. HIGH SCHOOL STUDENTS WILL NOT BE REQUIRED TO FOLLOW THEIR BELL SCHEDULE. This day was already in our schedule as a day off for Memorial Day weekend, therefore we are asking that our students attend virtually. Yours in service, Tom
Good afternoon. We wanted to let our families know that we are beginning to see a consistent rise of covid cases here at school. We want to stress the importance of keeping your child home if they are displaying any symptoms, even if you think it is allergies. We have plenty of home tests available if you would like to test your child if they are displaying symptoms, or our nurses can test. After many years of dealing with covid, we know the strategies used to curb exposure and transmission: masks, distancing, isolation, testing, vaccinations, etc. Please choose which strategy is best for your child as we deal with this recent surge in cases.
Looking for something to do tonight? Come out for the first Canisteo-Greenwood Girls Flag football game as the team takes on Edison High School at home. Let's show our support!!
It has been brought to our attention by the State Police that there has been an accident on Route 36 somewhere between Bush Hill and Gravel Run. They are unsure if the road will be clear by dismissal time and this would impact Bus 59. To our families of Bus 59, please expect a delay in the time that your child will be dropped off this afternoon.
Reminder-This Friday April 8th is Early Release Day. Elementary students will start dismissing at 11am, High School will dismiss at 11:30am. Classes will resume after Spring Break on Monday, April 18th. Thank you!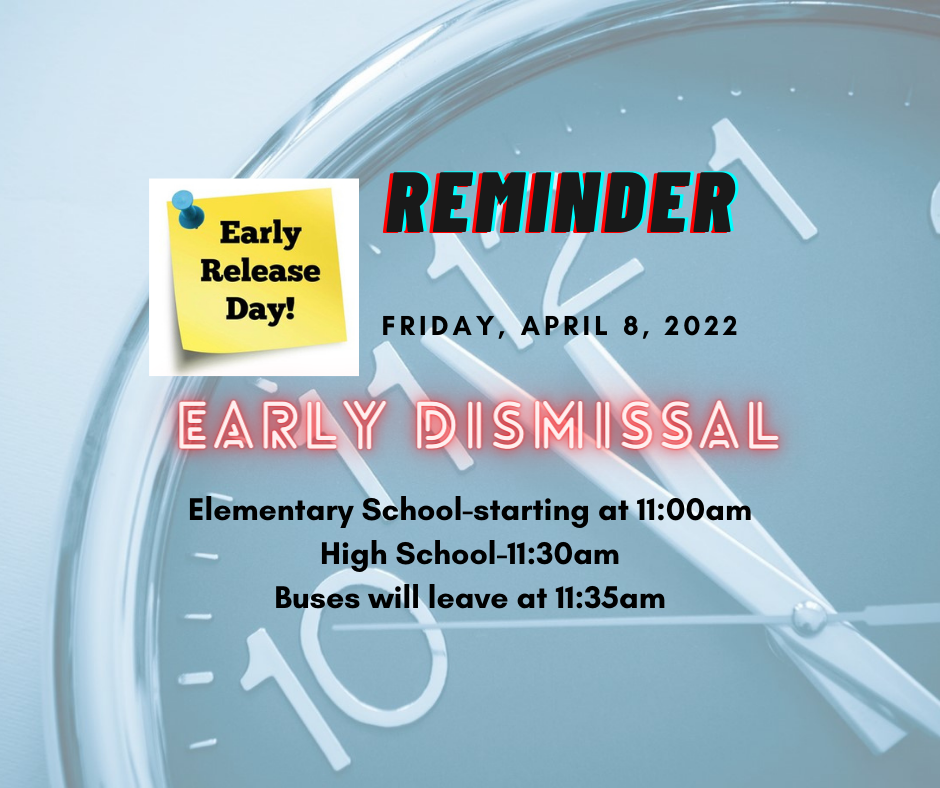 Elementary parents/guardians! It is the time of year when we collect data from our families about our Leader in Me journey. Please use the link below to complete the survey. Once completed, you can let your child's teacher know and you will be entered to win a gift certificate to Annie's! We will pick 3 winners! We truly value your feedback and use it for future planning. If you have multiple children in the elementary building, please only take the survey once.
https://www.leaderinme.com/s/canisteo-greenwood-elem-ny/families
We will pick winners April 8, 2022. Thank you so much!