Reminder- Thursday, April 1st is early release day. Students in the Elementary School will be dismissed starting at 11am and students in the High School will be dismissed starting at 11:25am. Parents please plan accordingly.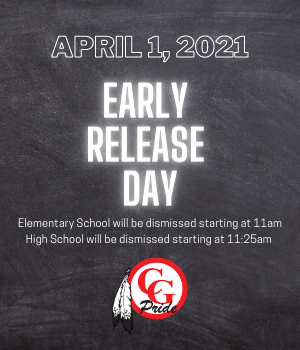 8th Grade Parent Night Mrs. Franclemont will be hosting an open Zoom meeting on Thursday March 25th from 6:00 – 6:30 PM to answer any questions you may have about high school. Please visit the Guidance page to learn more. Zoom link-
https://zoom.us/j/98780986085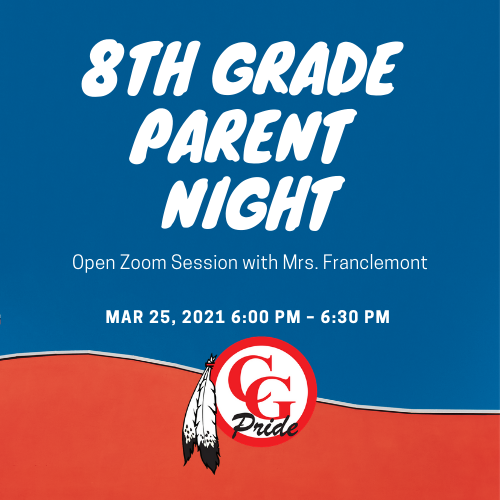 Get your Yearbook Orders in!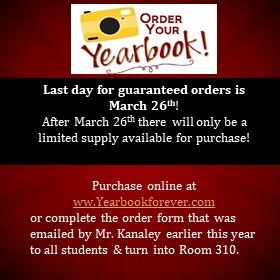 Sunday March 14th is Daylight savings time. Remember to turn your clocks ahead.
Conference Day - Monday, March 15th. NO school for Canisteo-Greenwood. BOCES Wildwood campus will be OPEN for any students wishing to attend BOCES classes, however, students must arrange for their own transportation to/from Wildwood campus and home.

The Girls Modified Basketball game originally scheduled for tomorrow, Tuesday, Feb. 23rd vs. J-T has been moved to Wednesday, Feb. 24th at 6:00 PM. The game will be live-streamed on the CG district Facebook page and can also be found on the district webpage.

Girls JV/V Basketball Update: The Girls JV Basketball game originally scheduled for Tuesday, Feb. 16th at 5:45 PM has been cancelled. We were notified last night that the Campbell-Savona Girls JV team must quarantine through the rest of the week and into the weekend. The Girls Varsity game has now been moved to 6:00 PM on Tuesday night.
There are 3 Verizon hotspot locations where you can drive up for Wi-Fi service for our virtual learners. Methodist Church-South Canisteo WLEA Greenwood School
The Canisteo-Greenwood Central School District will be running a non-perishable food drive with all of the items collected being donated to families within the school community. This is the season of sharing and the district has always shared generously. In addition to food we will also be collecting new mittens and new winter hats. Non-perishable items, mittens and hats will be collected on a daily basis from November 18 to December 10, 2020. Please send your donation with your child to school. Remember to check expiration dates and be wary of glass donations, we don't want broken glass on buses or in backpacks for student safety. Thank you in advance for your generosity! CG Holiday Committee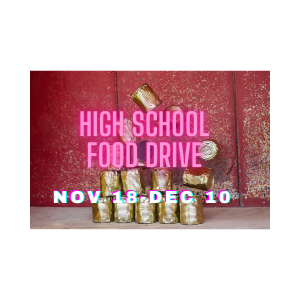 Good luck to our Boys & Girls Soccer teams in Sectionals this week. Remember each athlete is allowed 2 spectators at these away games and admission is $5. Tuesday, Nov. 10th Girls Varsity Soccer #9 C-G @ #8 Marcus-Whitman Location: Finger Lakes Community College Time: 6:30 PM Wednesday, Nov. 11th Boys Varsity Soccer #10 C-G @ #7 Pavilion/York Location: Pavillion Time: 6:30 PM

SCHSAA County Tournament Soccer Information Website Link:
https://schoolnotes.com/xpages/view/335490
Girls Varsity Soccer (#4) will host (#5) J-T tonight at 6:30 PM. Game will be live-streamed on CG school website. Boys Varsity Soccer (#8) will travel to (#1) A-A on Tuesday. Game scheduled for 6:30 pm and will be livestreamed (from A-A).

The Girls JV Soccer game scheduled for Monday, Nov. 2nd vs. Avoca/Prattsburgh has been re-scheduled for Tuesday, Nov. 3rd at 6:30 PM (reason for this- GVS will likely host a county tournament home game on Monday)

Please make note of the following schedule change for Saturday, Nov. 14th with modified soccer. Boys Modified Soccer will travel to Addison for a 12:00 PM game. Girls Modified Soccer will host Addison for a 12:00 PM home game.

C-G Athletic Events tonight: Tennis (H) vs. Avoca/Prattsburgh 4:30 PM Girls JV Soccer (H) vs. Campbell-Savona 5:00 PM Boys Varsity Soccer (H) vs. Campbell-Savona 7:00 PM

The Boys Varsity Soccer game (H) vs. Campbell-Savona (originally scheduled for 10/20) has been re-scheduled for tonight at 7:00 PM.

Due to a lack of officials across Steuben County, the girls modified soccer game @ JT has been postponed as well as the Girls JV Soccer game (H) vs. Avoca/Prattsburgh.

A girls varsity soccer game has been added to the schedule: Saturday, Oct. 31st Girls Varsity Soccer @ Andover 11:00 AM